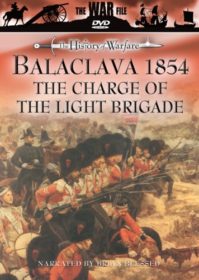 Balaclava 1854 – The Charge of the Light Brigade DVD
The Battle of Balaclava, the most famous battle of the Crimean War (1854-1856), is also one of the most famous battles in military history. The battle was distinguished by three celebrated acts of exceptional heroism-the courage of the 93rd Highland Regiment, forever immortalized as "the Thin Red Line"; the dashing bravery the utter disaster that befell the Light Brigade when it made its infamous suicidal charge on the Russian artillery positions. Featuring special dramatized "eyewitness" accounts and reconstructions, period imagery, and computer generated 3-D maps of the battlefield, this DVD is a dramatic record of the battle. Narrated by Brian Blessed, this DVD also features expert commentary and analysis by Dr. David Chandler, one of the world's foremost military historians and former head of the Department of War Studies at the Royal Military Academy, Sandhurst.
Only logged in customers who have purchased this product may leave a review.