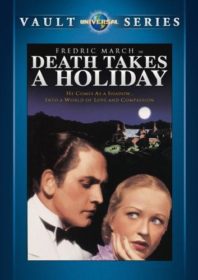 DEATH TAKES A HOLIDAY – DVD
In the pre-code classic Death Takes a Holiday, the Grim Reaper (Fredric March) pays a visit to a family of wealthy socialites though he is not there on his usual business. Intent on entering the human world for a three-day holiday, Death takes the form of a visiting prince, and assumes all the pleasures and pains that go with flesh and blood existence. Experiencing, for the first time, all that humanity has to offer, he becomes enamored of Grazia (Evelyn Venable), a woman both in love with life and infatuated with death. But soon, in Death's absence, life is running dangerously and unexplainably rampant, and knowing that he must return to his eternally grim world, he conceives a plan, involving Grazia, to allow him to take back some of what he has learned and yearned for. Co-starring Henry Travers (Clarence, the angel of It's a Wonderful Life), this thrilling and evocative portrayal of death's lesson and life's blessing is one of the golden age of Hollywood's most memorable films.
Only logged in customers who have purchased this product may leave a review.