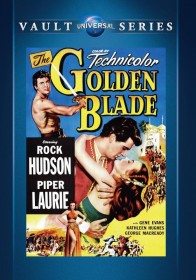 GOLDEN BLADE (1953) – DVD
Screen legend Rock Hudson stars with Piper Laurie in the Technicolor adventure The Golden Blade. After vowing to his dying father to help establish peace in his homeland, Harun (Hudson) travels to Baghdad where he meets gorgeous Princess Khairuzan (Laurie) and uncovers a gold sword that only he can wield. When the Caliph's scheming advisor, Jafar (George Macready), concocts a plot for Khairuzan to marry his son, Hadi (Gene Evans), it is up to humble Harun to prove his worth and save his royal love from a terrible marital fate. Filled with sword-fighting, romance and mystery, it is an unforgettable epic story of passion and loyalty.
Only logged in customers who have purchased this product may leave a review.