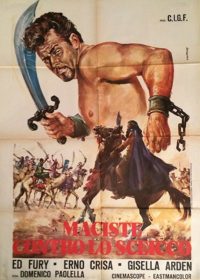 MACISTE AGAINST THE SHEIK (1962) – DVD
In the late 1500s, forces of the Duke of Malaga topple the Sacred Obelisk in the North African city of Melida before they're defeated by the local Sheik. The Shiek's men then sail to Spain and kidnap the Duke's daughter, Isabella. Antonio, who loves Isabella, now travels to Melida with his friend, Maciste, to rescue her as well as her imprisoned father. They're soon captured and Maciste is forced to single-handedly re-erect the fallen obelisk before he and Antonio make their escape. The two men then seek to finish rescuing Isabella and restoring her father to his dukedom.
Only logged in customers who have purchased this product may leave a review.