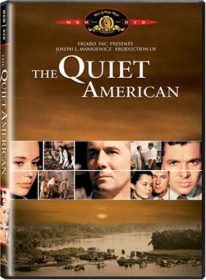 THE QUIET AMERICAN (1958) – DVD
A love triangle brews amidst a growing political tempest in this "brilliantly intellectual" (Los Angeles Times) film in which nothing is quite as it seems. Adapted from the acclaimed novel by Graham Greene, Academy Award-winning writer-director Joseph L. Mankiewicz's screenplay "delivers dialogue that not only sparkles but bites deep with the irony of truth" (Citizen-News). In 1952, Saigon is caught between the corrupt colonial powers and the Communist uprising. An idealistic young American (Audie Murphy) champions a shadowy Third Force, but cynical British journalist Thomas Fowler (Michael Redgrave) is concerned only with the American's interest in his mistress. When jealousy forces Fowler to take sides at last, the personal and political consequences are devastating.
Only logged in customers who have purchased this product may leave a review.