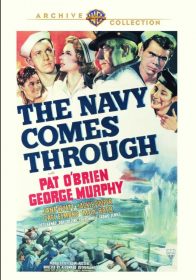 THE NAVY COMES THROUGH – DVD
America was at war, and many a seagoing vessel got called to duty, like the rickety Merchant Marine freighter whose crew serves with distinction, destroying Nazi bombers and U-boats in a rousing adventure adapted from a Saturday Evening Post story by future Red River and Winchester '73 screenwriter Borden Chase. And what a crew! Deploying for hazardous action are gunnery commander Pat O'Brien, seaman George Murphy (a disgraced former officer in love with O'Brien's sister, Navy nurse Jane Wyatt), skipper Ray Collins and sailors Jackie Cooper, English-challenged Cuban guitarist Desi Arnaz, heavyweight boxing champ Max Baer and Austrian violinist Carl Esmond. Amidst valor under fire and a dubious charge of cowardice during enemy action, all band together to navigate dangerous waters, coming to a head when capturing a German supply ship they use to lure enemy submarines. You'll cheer with patriotic pride – and at some exciting Oscar-nominated special effects – when The Navy Comes Through.
Only logged in customers who have purchased this product may leave a review.