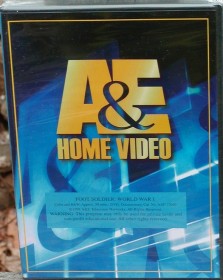 FOOT SOLDIERS OF WW1- DVD
From A&E/The History Channel shows what life was like in the trenches that stretched across a continent and examines the weapons and tactics that defined the first truly global conflict. They were sent by the millions to wage a war that ranged across a continent. They were armed with weapons the likes of which had never been seen. They fought the first modern war, and often, they had to make up the rules as they went along. The men who fought the First World War occupy a unique place in the history of combat. They were the first to employ and face weapons like poison gas and the machine gun. In trenches that ranged for miles, they battled not just the enemy, but disease, malnutrition and the elements. This DVD is a gripping look at the ordinary soldiers who fought in this global war. Go into the trenches alongside the Kaiser's soldiers, and stand beside the French and English infantrymen who opposed them. And march with the American "doughboys" as they finally entered the conflict.
Only logged in customers who have purchased this product may leave a review.