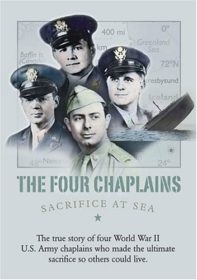 FOUR CHAPLAINS – DVD
Separated by Faith, united by an Act of Courage. As the USAT Dorchester went down, four chaplains of different faiths (Catholicism, Judaism, and Protestantism) made the ultimate sacrifice. Together they prayed and joined arms as they offered their lifejackets to others. Dramatic military film footage and interviews with survivors help to recreate this moving World War II story.
Only logged in customers who have purchased this product may leave a review.